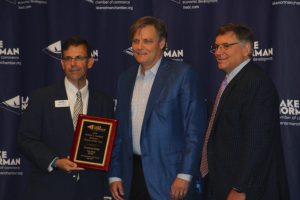 The Lake Norman Chamber of Commerce awarded several members of the business community for their efforts during the pandemic year 2020 at the organization's delayed annual banquet July 15.
The Robert T. Cashion Business Person of the Year went to Charles Knox, founder of the Knox Group real estate brokerage, at the event at NorthStone Country Club. The company marked its 30th anniversary. Knox also serves on the board for Aquesta Bank, which was prominent in lending Paycheck Protection Program loans.
"Charles Knox's reputation in the Charlotte metropolitan area is based on trust and integrity," said Bobby Cashion, son of the award's namesake. "He devotes substantial time to working directly with local business and property owners, investors and his peers in the field. He strives to make sure every real estate development The Knox Group undertakes makes a positive contribution to the long-term health of the community."
Knox is a Davidson College graduate, was the chamber's board chair in 2000 and has served on the N.C. 73 Planning Council. He admitted that he was "shocked" to receive the award.
"It's a true honor to be affiliated with your dad," Knox said. "I've been to many places in the world, and there's not a place better than Lake Norman to do business. I feel grateful for this award. We survived during COVID. We got through it. I'm happy we're all still here, and happy we can all get together without a mask, and be back to business as usual."
Excerpt reprinted from lakenormanpublications.com article on July 21, 2021, by Doug Coats.
Click Here to Read the Full Article on the Lake Norman MediaGroup Website.