Primal Brewery has snagged a 15,500-square-foot space in Belmont as it looks to ramp up production.
EXCLUSIVE: Second location on tap for this Charlotte-area brewery
Primal Brewery has snagged a 15,500-square-foot space in Belmont as it looks to ramp up production.
The Huntersville brewery has signed a deal for the former Rivermen Brewing Co. space at 52 Ervin St.
It is targeting an April opening there.
Primal's founders, David Hoy and Ray Steimel, have been looking for a second location in the Carolinas since mid-2017.
"We just couldn't get to a win-win on a space or facility," Hoy says.
Adds Steimel: "This feels like an extension of our taproom."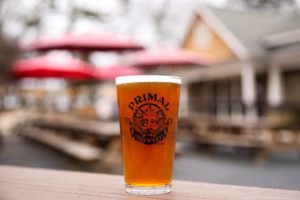 The three-story property is equipped with a 10-barrel system and 20-barrel fermenters and brite tanks as well restaurant space and room for packaging equipment.
"It's really a boon for us because our next big investment needed here was to upgrade to a bigger brewhouse and fermenters," Hoy says.
Benefits of that larger system include consistency, capacity, volume and ease of brewing, Hoy says.
"The facility is a giant leap forward for us," he says.
Currently, Primal is brewing multiple times a day several days a week using a three-barrel system to keep up with demand. Approximately 80% of beer produced is sold in the taproom, with the remainder through distribution. The brewery produced under 2,000 barrels last year.
Expanded capacity makes it possible to keep up with demand and expand distribution, while experimenting with some small-batch brewing, says Steimel.
"We're going to be able to do the fun part of craft beer. Right now, we're brewing, brewing and brewing to keep the taps full," Steimel says.
Plans in Belmont call for the taproom and a restaurant that dishes up pub fare — with beer-infused options, of course — on the main floor. There's also room for a packaging line and storage on a lower level.
The Rivermen space, formerly a mill, is also located close to Belmont's Main Street and key projects in development — and comes with ample parking. It is also just 13 miles from uptown and there's easy access to the Huntersville taproom, Hoy says.
In total, the duo expect to invest just shy of a million dollars into the Belmont facility and additional upgrades at the Huntersville space — though changes will be mainly cosmetic.
Primal expects to add 25 jobs in Belmont. It currently has 25 full- and part-time employees.
Addison DeMaille, formerly with National Restaurant Properties, represented property owner National Mills LLC in the transaction. Steve Knox at the Knox Group represented Primal.
Primal has gained a following since opening at 16432 Statesville Road in late 2014. Primal's tap list focuses on drinkable brews and making craft beer more accessible.
"It's become that gathering place. That place we always thought beer was about," Steimel says.
Hoy and Steimel have been strategic in the brewery's growth, choosing to wait to expand Primal's production facility.
"When everyone else was expanding brewing systems, we bought the dirt we were on so we weren't beholden to anyone," Hoy says.
The taproom and beer garden have expanded significantly. Hours have grown to seven days a week, up from two days when the doors opened.
The brewery is also in talks for a third location — though nothing has been finalized.
"We're going to be very intentional about trying to make each of our locations mirror the vibe we have here and make it a gathering place for the community," Steimel says.
re-printed from The Business Journal 01-13-20 issue; Jennifer Thomas, Senior Staff Writer