CTEK expands in its move to a renovated facility at 460 East Plaza Drive.
C Tek Lean Solutions relocates to Mooresville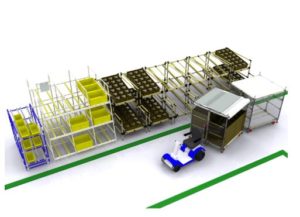 Mooresville, NC – C Tek Lean Solutions, a manufacturing company that designs and builds work stations, storage racks and other products for manufacturing, distribution and light assembly companies, has expanded and moved to Mooresville NC.
The new location, at 460 East Plaza Drive, is part of a renovated 100,000 SF facility recently purchased by CASPRE, LLC an affiliate of Huntersville based real estate firm, The Knox Group.
C Tek's increased business created a need to move from their former 12,000 SF facility in Cornelius, NC. "The added space will allow us the opportunity to increase productivity and expand into different lines of business," shared C Tek President, Chris Dawson. The company currently employs twenty-five people.
The Knox Group, who purchased the facility in late 2018, has completed over $1,000,000 in renovations and improvements. C Tek occupies 30,000 SF, a second internationally based company occupies 37,000 SF, and  33,000 SF remains available for lease. "We are very excited to reposition this industrial property in the dynamic Mooresville market," said The Knox Group President, Charles Knox.