Based in Huntersville, North Carolina, the associates of The Knox Group are life-long residents of the community and are passionate about the health and vitality of the region. Our team has invested many volunteer hours into civic and non-profit leadership to help grow and nurture a variety of organizations that make this a great place to live.  From serving on the board of directors for a local clinic to sponsoring community theatre, we are passionate about supporting great causes.
Some of the organizations supported by The Knox Group include:
Davidson Community Players is a non-profit organization established to produce theatre that entertains, enriches, and encourages community participation in th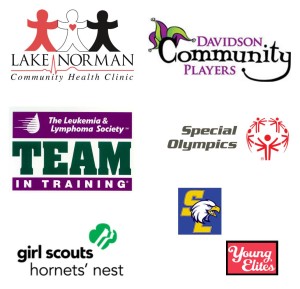 e dramatic arts. The Connie Company is DCP's theatre for youth division. Both organizations have a long standing record of providing creative, authentic and affordable opportunities for both children and adults.
Girl Scouts Hornets' Nest Council is among the oldest and largest girl organizations in the Carolinas. Today, the Council serves 22,000 girls and adults in eight counties in North and South Carolina. These include Anson, Cabarrus, Mecklenburg, Montgomery, Rowan, Stanly, Union and York, SC.
Lake Norman Community Health Clinic is the oldest and largest medical provider serving the uninsured in North Mecklenburg and South Iredell counties.
Southlake Christian Academy is a small private Christian school that provides transitional kindergarten through 12th grade.
Special Olympics is a global movement of people creating a new world of inclusion and community, where every single person is accepted and welcomed, regardless of ability or disability. We are helping to make the world a better, healthier and more joyful place — one athlete, one volunteer, one family member at a time.
Team In Training is the flagship fundraising program for The Leukemia & Lymphoma Society (LLS) and the only endurance sports training program for charity that raises money for blood cancer research.
Young Elites provides expert programming for high school girls to inspire their intellectual, physical and social growth while preparing them for a lifestyle of leadership.